From Concept to Completion
Your Container Conversion Journey
Our experienced container conversion team work with you to turn your vision into reality.
Each project is unique but we have a tried and tested process that we follow to ensure project success. This process is outlined below:
1. INITIAL ENQUIRY
We take time to fully understand your vision – where and how the converted container will be used, whether the container is likely to be sited in a fixed location or frequently transported and any specific requirements that must be included.
You don't need to be a shipping container expert! We have a wide range of clients – from home-owners needing a custom garden office, small business owners looking for a customised retail unit, to large companies seeking units to transport round the world. Our conversions team will work with you as an individual/team and will provide expert advice and guidance throughout the project.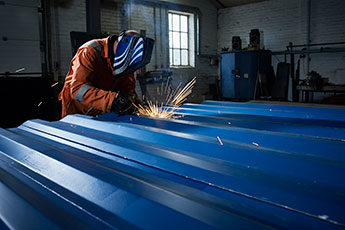 2. BASE DESIGN & SPECIFICATION
Whilst we have some standard elements and base designs, the majority of the shipping container conversions are designed and built for a particular purpose to a unique design.
Some clients will have their own drawings, artists impressions or rough sketches showing the position and location of key elements. These are always extremely helpful and a great starting point for us to start working on the design for your container conversion: "A picture or photo paints a thousand words".
But is not a requirement for you to provide drawings. We can gather information over the phone, via email and respond to pre-qualification questions and tender responses.
We will consult with you on key requirements, propose our recommended options and guide you through a series of selections in our Container Conversion Design & Configuration.
Our conversions team will use all the information that you provide to create a base specification covering the scope of work. Note, we do not provide CAD drawings at this stage.
3. QUOTATION
Prior to quotation we will meet with you to finalise the design to ensure we have a complete match to your requirement.
We will provide you with the base specification and a quotation for the complete project. This will include the purchase of the base container, the modifications to it and delivery to your preferred location. For overseas projects, we will include shipping to the port ready for onward transportation.
We will provide indicative project timescales which will be confirmed once we've received your notification to proceed.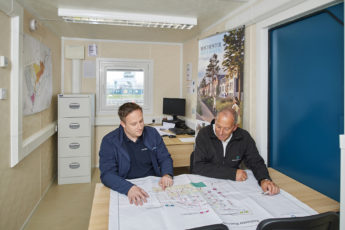 4. DETAILED DESIGN & CAD DRAWINGS
Once the quotation has been checked by you and you have provided us with a formal notification to proceed, we will move on to the detailed design phase including production of the CAD drawings.
We supply you with detailed CAD drawings for approval, together with an updated quotation, if required, and our detailed terms and conditions.
5. AUTHORITY TO PROCEED
Once you are confident that the drawing and quotation meet your needs, you will be asked to sign off the drawings. When drawings are approved we will be book the project into our production schedule.
At this point we raise a pro-forma invoice for a minimum of 50% of the contract value (note that smaller projects require 100% pre-payment).
6. CONVERSION PROCESS
A close working relationship is established with each client. If there are any changes through the build either from the client or through technical issues with the initial design then these are fully discussed and if necessary, a revised quotation is provided for approval / sign off, prior to taking on any of the alterations to the initial contract.
Customers are always welcome to visit the site (by prior arrangement and subject to Covid restrictions) to see their units being manufactured. We require that our full health and safety guidelines are followed and that when entering a working space that an escort is always present.
Depending on the scope or complexity of the project, the conversions work will include some or all of our specialist teams.
FABRICATION
Our highly skilled fabrication team will take the base shipping container and carry out the major structural alterations that are required.
This could be anything from fitting a simple door to cutting the container sides out and fitting a fully opening hydraulically operated gull wing canopy.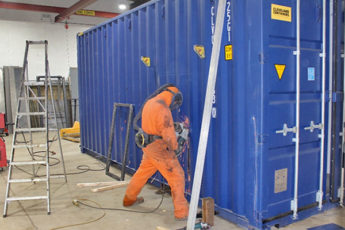 WELDING
The integral strength of the container is maintained by fully welding any alterations.
This not only maintains the strength but also ensures that there will be no unforeseen leaks.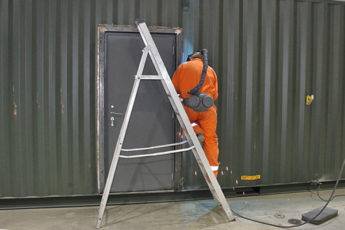 PAINTING
We have 2 fully equipped paint booths with heated areas to ensure a great finish to the container. We can apply a variety of coatings from single pack compliant paints to a full system of 2 pack finishes for greater protection.
Our painters take great pride in the surface finish of the containers and will always provide the best.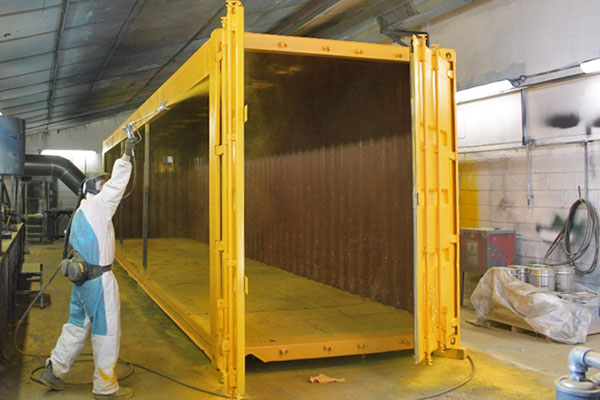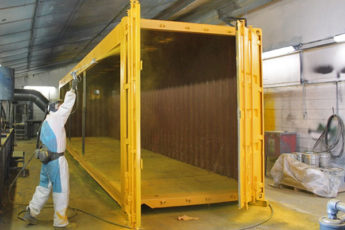 INTERNAL LINING & INSULATION
Our skilled team of carpenters produce the final finish to the internal surfaces of the container, they erect a studwork frame, fully insulate to help reduce the temperature fluctuations and reduce the carbon footprint that would be needed to maintain a fully heated interior.
The surface finish of the walls and ceiling are achieved with faced wall boards which are available in a number of finishes, from a plywood veneer to coloured food safe surfaces.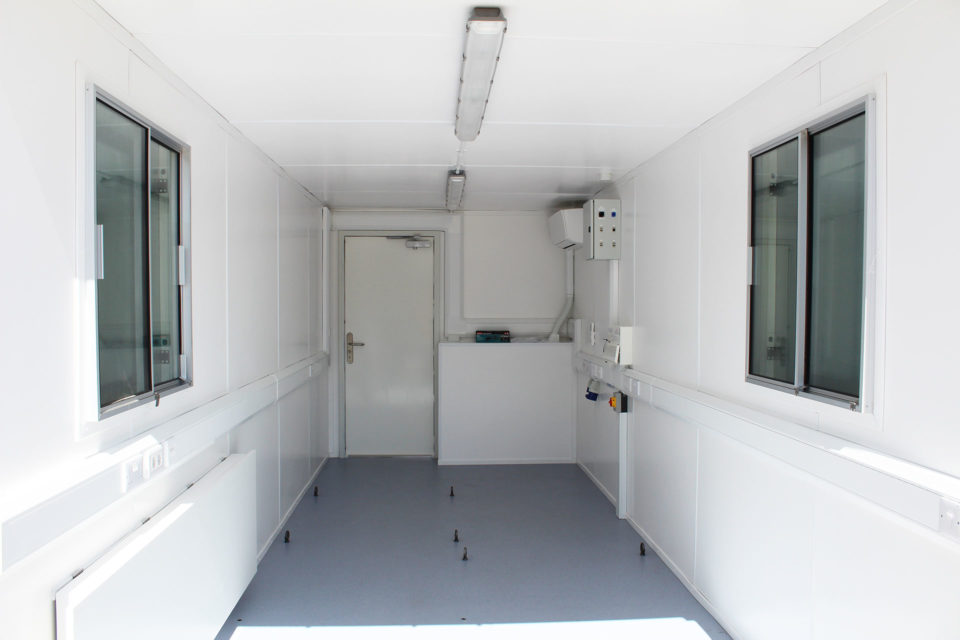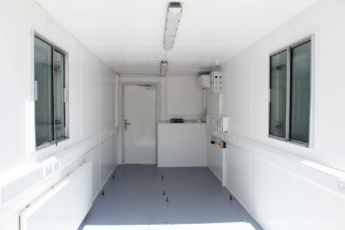 ELECTRICAL INSTALLATION
Any power requirements are fitted as required, this can consist of simple lighting, heating and power sockets that are surface mounted to fully flush fitted circuits where the wiring is hidden behind the wall surface.
On-site connection to the mains is not covered by our team – this would need to be carried out once the container has been delivered.
Connection is either hard wired into a junction box or via a power inlet socket where the unit would be simply plugged in.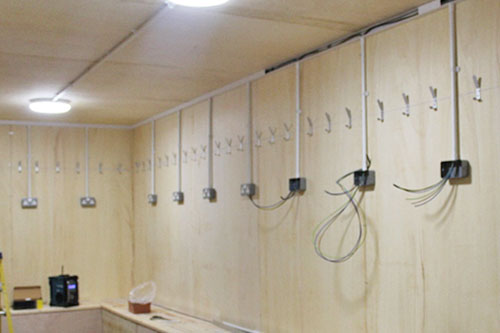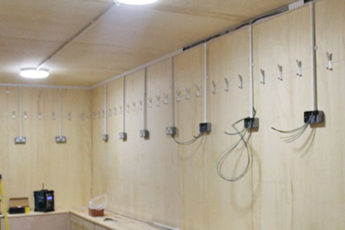 PLUMBING
Basic plumbing can be installed, from toilets, showers, handwash basins and full kitchens. Usually this will be plastic push fit systems and ABS waste Pipes.
Everything will be terminated to an external point where it will need to be connected to the mains supply once the container is delivered.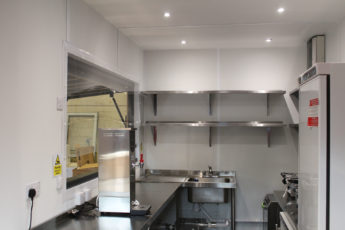 7. Quality Inspection
Throughout the conversion process there are various quality checks to ensure that everything is being produced to the required specification. Learn more about our Quality & Environmental Policy and our Health & Safety Policy.
8. Transport to Site
We operate a fleet of delivery vehicles that are capable of off-loading the container to the desired location. We are not able to deliver on soft ground. Please see transportation for more details.